Varieties
Agiorgitiko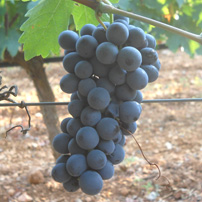 The "blood of Hercules" as it is alternatively called because of the deep red colored wines it produces. It is one of the finest Greek red varieties, cultivated basically in Korinthos, mainly in the region of Nemea. It also grows in Attiki, Argolis and Arcadia, covering an area of 2000 hectares. Depending on the type of soil where it is cultivated, the Agiorgitiko variety gives different types of wine. At low altitude, it can offer sweet wines of good quality, in places with medium altitude wines that are high in alcohol, have a fine level of acidity, rich color and good tannins. Finally, the vines that are planted at high altitude give red as well as quality rosé wines.

Cultivated in the family vineyards at Achladias and Koutsi, in Nemea.

Assyrtiko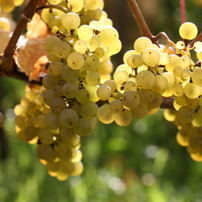 The most dynamic white Greek variety. It comes from the Cyclades, especially from Santorini. The cultivation of Assyrtiko reached Halkidiki and then it was spread throughout Greece. Today, the vineyards of this variety cover an area of over 1150 hectares. Due to its high acidity, to its aroma and adaptability to different soils and climates without altering its character, Assyrtiko is much used in the creation of new vineyards across the country.

Cultivated in the family vineyard at Kapandriti, in North Attiki.

Malagouzia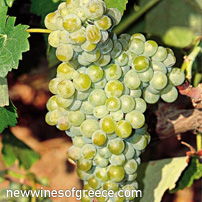 A white variety that has its origins in Aitoloakarnania. Today, it is grown in Macedonia, more sporadically in Central Greece and the Peloponnese. The wines it gives are of moderate acidity, fragrant and high in alcohol.

One of the new varieties of the winery grown at Koutsi, in Nemea.

Rhoditis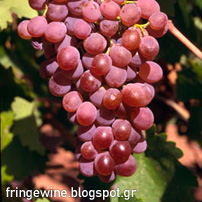 It is a very old rosé local variety cultivated in 32 prefectures in Greece, in Northwestern Peloponnese, Attiki, Boeotia, Euboea, Thessaly, Macedonia and Thrace. It shows significant variability enhanced by the different climates where it is grown. Its variants have among them both morphological (as to shape, color, size, grain density) and technological (as to sugars, acids, aromatic components) differences. The names Rogditis, Alepou, Rodomousi, Kanellato, Kokkinostafylo, Litsitsines, Sourviotis and Krytsanisti are nothing else but variations of Rhoditis. When cultivated in appropriate highland soils with moderate productivity per vine, Rhoditis can provide quality dry wines, with good balance between alcohol and acidity as well as fine aroma.

Comes from cooperating vineyards at Ziria in Achaia, in Boeotia and in North Attiki.

Savvatiano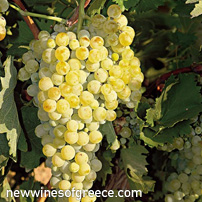 A white variety grown mainly in Attiki, Euboea and Boeotia as well as in the Cyclades, in Western Crete, the Peloponnese and Macedonia, covering an area of 1800 hectares. Savvatiano can give remarkable white wines, with good balance between alcohol and acidity, as long as it is planted in mid altitude, it is not overloaded and provided that it is harvested at the optimum point of its technological maturity. Otherwise, the products are rather high in alcohol and of low acidity.

One of the oldest varieties of the winery, grown in North Attiki and in Boeotia.

Limniona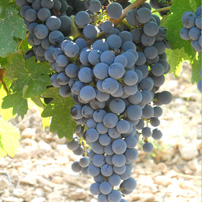 It is a red variety that is grown to a limited extent in Thessaly. Vine growers also call it "Limnio", although Limnio refers to a different variety. Its juice is high in alcohol and of moderate acidity.

Cultivated in the family vineyards at Achladias.

Cabernet Sauvignon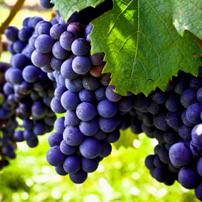 Originally from Bordeaux, this international red variety started being cultivated in Greece as ameliorative of red wines produced from local varieties. It first appeared in Metsovo and eventually it was spread throughout the country, though within a limited area (permitted or recommended in 23 prefectures) because of its lower productivity in comparison to Greek varieties. At the right ripeness degree of the grapes, Cabernet Sauvignon gives well-balanced wines as to alcohol and acidity levels. Excessively ripened fruit has a negative impact on the acidity and the aroma of the product. In suitable ground, it can give wines with intense color, high aromatic potential that evolves during the aging process, body, tannic wines that are enjoyed after having stayed at least 20 months in the barrel. In combined vinification or when blending with other varieties, Cabernet Sauvignon needs to participate in just a 5-10% in order to provide the final result with traits of its personality.

Cultivated in the family vineyards at Achladias.

Chardonnay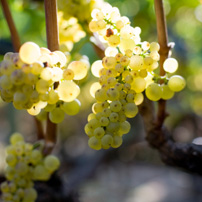 This cosmopolitan white variety comes from Burgundy. Here in Greece it is cultivated in 24 prefectures, across the country. The wine produced from this variety is oily, with good balance of alcohol and acidity, rich bodied and aromatic. Of course, its quality and the complexity of its aromas depend on crop yield. In the right soil, it can reach perfection as to the quality standards of a dry white wine.

Grown in the family vineyard at Marathon Lake, in North Attiki.

Merlot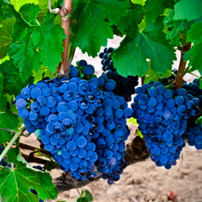 French red grape variety from Bordeaux, which has managed to spread around the world in recent years. In Greece, Merlot vineyards can be found in 23 prefectures across the mainland. These vineyards offer high in alcohol wine, of good acidity, soft, with body, distinctive aroma, susceptible to aging. Mixed with other wines, it improves their color and aroma, while speeding up the time required for them to mature.

Cultivated in the family vineyards at Achladias.

Sauvignon Blanc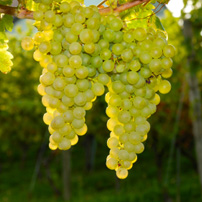 This is another white French variety which has spread around the world. In Greece, its cultivation began in the early 90s and now we find it all across the country, in 21 prefectures. When grown in ideal soil and climate conditions, with low yields, and the harvest is performed at the right stage of maturity so as to achieve balance between sugars and acidity and to keep the distinct aromatic potential of the variety, Sauvignon can give excellent quality dry wines that have body,
aroma and velvety texture.

Cultivated in the family vineyard of Kapandriti, in North Attiki.

Shiraz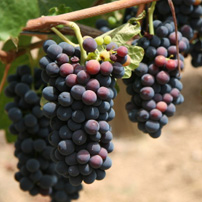 A red variety that owes its fame to the extraordinary wines it gives in the Rhone valley. It is grown in many parts of the world as well as in Greece, initially in the region of Sithonia. The last 3-4 years it has been cultivated as recommended in 16 prefectures, both in mainland Greece and the Dodecanese. The soil, the area, the clone and the pruning affect this variety which thereby gives wines that are 'stronger' or 'less strong', with medium acidity, intense color and aromas which get more complex through the aging process.

Cultivated in the family vineyards at Achladias.

Malbec
It is the main variety of Argentina, the country with the most Malbec vineyards in the world. However, it originally comes from Southwest France, where it is called Cot. This red variety set off from the slopes of the Andes (from the famous Mendoza) and by clonal selection it came to the heart of Nemea, to the Harlaftis family estate. There, we find an experimental Malbec vineyard that gives a wine with intense dark color, aromas of violet, honeysuckle and jasmine, combined with ripe fruit, plum and sour cherry.

Cultivated in the family vineyards at Achladias.
top of page