Premises
The Stamata winery in 1938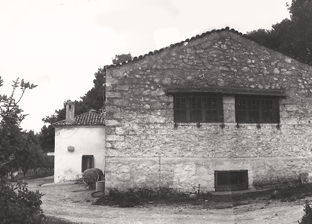 The stone-build winery was build (and is still based) adjacent to the family vineyard at Stamata. Of course, much has changed since then. Rampant housing development in the district, in recent years, has inevitably led to the shrinking of vineyard land. Not only the Harlaftis vineyards but also local vine growers, with whom the family has worked closely for many years, are now gradually moving further to the north of Stamata, in the areas of Marathonas and Kapandriti.
Here, a number of white grape varieties are cultivated, including Assyrtiko, Chardonnay and Sauvignon Blanc.

The Stamata winery today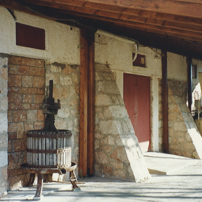 Today, having undergone the necessary modernization, with certain essential additions and minor interventions, the Stamata winery continues its steady progress. Aiming solely at quality, the Harlaftis family have been working with the same passion and the same love for wine as their predecessors 80 years before and have now created remarkable labels, a fairly wide range of wines to satisfy all tastes. They insist on experimenting with new varieties, always serving the purpose of offering the best possible outcome to the market.





The Nemea winery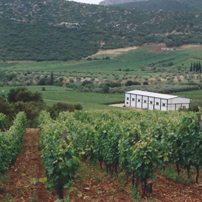 It is located in the area of Achladias. An up-to-date facility in the middle of the vineyard, built for the fermentation and aging of the estate's Agiorgitiko wines. It is equipped with the latest vinification tools and operates with a primary focus on red wines. It has an underground cellar that accommodates over 500 oak barrels. Here, at the Nemea estates, at Achladias and Koutsi, the need of the people of the winery for creative experimentation is absolutely obvious. They are always experimenting with new varieties and novel wine-making techniques. The predominant variety is certainly Agiorgitiko. However, new red varieties like Malbec, Merlot, Shiraz, Cabernet Sauvignon and several white ones such as Malagousia and Assyrtiko, constitute an endless source of inspiration and a fine raw material for creative production.




top of page